Introducing the TSX team at TERN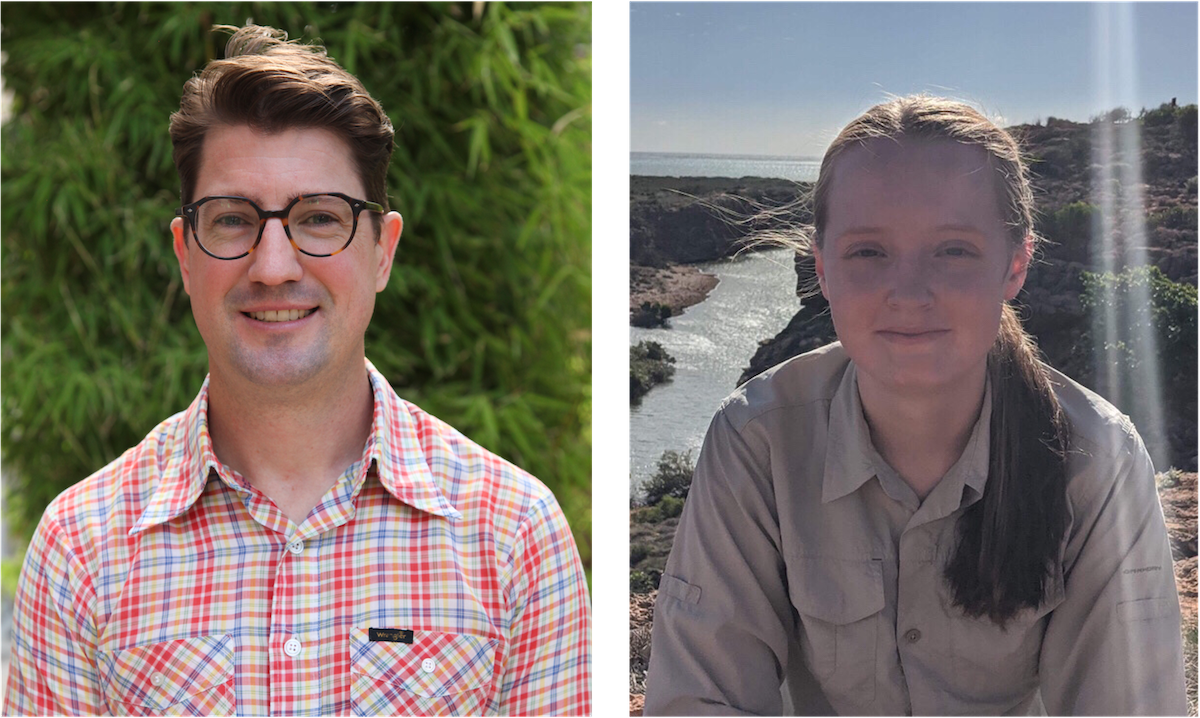 The new faces of Australia's Threatened Species Index (TSX) are Geoff Heard and Tayla Lawrie. The TSX team at TERN, with ongoing support from the Department of Agriculture, Water and the Environment, will ensure continued access for all stakeholders to data on changes in the abundance of Australia's threatened species.
In July 2021, the future of one of Australia's most important conservation evaluation tools was secured with TERN becoming the new custodian of the Threatened Species Index (TSX) for Australia. The TSX was developed through the Australian Government funded National Environmental Science Program and its continuity remains a government priority.
The TSX is a threatened species data curation tool and provides a service which enables a variety of tasks:
importing and storing species monitoring datasets into a single unified database;
processing and aggregating monitoring observations to produce time series analysis;
calculating/viewing population trends over time; and
visualisation of population trends and statistics via a web browser.
Based at TERN's headquarters at The University of Queensland, the TSX project management team will work with more than 50 data providers — including state and territory governments, universities, NGOs and national research organisations — to collate information on population trends for Australia's threatened species, and incorporate that information into annual updates of the index.
TERN's national networks and extensive data storage and analysis infrastructure make it the natural home for the TSX going forward.
TSX Project Manager
Dr Geoff Heard is the new TSX Project Manager. Geoff is an applied ecologist who has been working on threatened species for over 20 years.
Geoff completed his PhD on endangered Growling Grass Frogs and has subsequently worked on numerous threatened amphibians, reptiles, mammals and birds. His research has focussed on quantifying population trends and dynamics to inform conservation management, using long-term monitoring data on species occurrence and abundance.
Geoff's background in threatened species and population trends is closely aligned with the TSX, and he's thrilled to be managing such a vital piece of Australia's biodiversity infrastructure.
TSX Data Analyst
Ms Tayla Lawrie is the new TSX Data Analyst. Tayla has an honours degree in Advanced Science (Ecology) from The University of Queensland and her research experience covers aspects of plant community and invasion ecology, as well as conservation biology.
She is particularly passionate about helping streamline the ways in which we collect, analyse, publish, and access scientific data, critical to improving scientific discovery, communication, and collaboration globally.
Advisory Committee & Stakeholder Engagement
Strategic input into the development of the Threatened Species Index will be provided by an Advisory Group, comprised of representatives of stakeholders and data providers, along with some former members of the former NESP-funded Threatened Species Recovery Hub.
Over the coming year, as new features and data are added to the index, tailored digital training materials and workshops will be developed and provided to stakeholder groups, particularly data providers and users.
To receive updates about ongoing developments of the TSX you can subscribe to its newsletter here.
TSX presentation at ESA21
The TSX will once again have a presence at the annual Ecological Society of Australia (ESA) conference. This year, former TSX management team member Dr Ayesha Tulloch will be presenting on the continuation of the TSX on Tuesday, 23 November in the 'threatened species' open forum.
If you are attending this year's online ESA conference, we hope you can join Ayesha's presentation.